DRUNKARD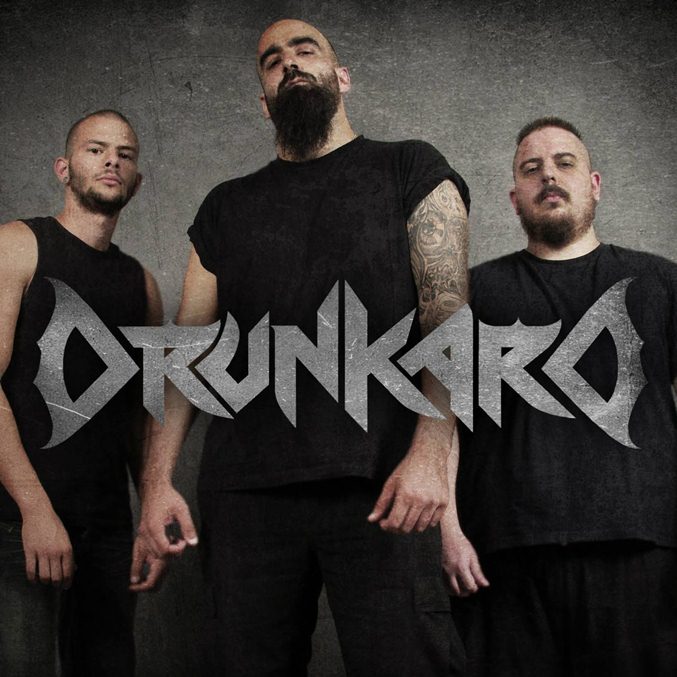 biography
DRUNKARD is a Greek Thrash Metal band from Thessaloniki. Formed in the summer of 1999 by John Kalouptsis (Guitars) and Savvas Mistiliadis (Vocals ,Bass). The ideals of the early days were more "retro" oriented to the cult Heavy Metal sound of the 80s as an opposition to many modern metal bands of the late 90s.
On September of 2000 the band entered the studio to record their very first 5-song demo EP called Alcoholic Thrash Attack. Despite the fact that this material was no match for the average well-polished heavy metal production, it did inspire a feeling that's just hard to come up with! This primitive demo was thus burned in a small number of CDs and distributed to fans and labels, to get a first reaction. Surprisingly, it caught the attention of many underground labels from the U.S. and Germany. Deathstrike records (the German label of Teutonic Thrashers NOCTURNAL and FRONT BEAST) in particular were very excited with it and finally released it on tape in 2002. This demo tape was sold out in almost two weeks.
Always going against the odds, it almost felt like a struggle of DRUNKARD pushing harder with a lot of gigs and interviews until the first album was about to be unleashed. Having received (in just a few months) about 200 letters of support from a lot of fans, the recording session of the album begun in mid-2003 and after completing a 2-song promo DRUNKARD signed with Blackmetal.com/Cyberjara label from USA.
So, in 2004 debut album HELLISH METAL DOMINATE was released worldwide and also in special edition for Japan. Cover-art executed by Nathan Eldridge (Morningrise) and the original M-16 Pentagram graphic of the front-cover was created by RITUAL (Nucleart.org) known for previous album artworks for IMPALED NAZAREEN. Ten tracks of pure alcohol-fuelled Thrash Metal put DRUNKARD onto the map of metal society!
HELLISH METAL DOMINATE received some of the greatest reviews back then (Metal Hammer 9/10, Terrorizer 8/10) and was considered as the Pleasure To Kill (KREATOR) of the new Millennium. It was in the top 10 most selling Thrash albums of CD Baby online shop and later HailMetal.com webzine put this in the top 50 best Thrash Metal albums of all the time among with bands like METALLICA, MEGADETH, SLAYER, SEPULTURA, ANTHRAX etc! What is more, "Thrashing Vein" track was included in Century Media distro fall sampler (promo CD) in 2005.
DRUNKARD supported the album with full force back then and even was called from agencies to support the tours of bands like DEICIDE, SIX FEET UNDER, INFERNAL MAJESTY and ROTTING CHRIST in Europe and DEKAPITATOR in USA.
After a few years and some line-up changes the band made the step and invaded Poland and HERTZ studios in June of 2008 to record their new album Like Sin Explode. The second new full-length album was raw and evil, yet polished and aggressive due to the professional production of Wieslawski Brothers (VADER, DECAPITATED, BEHEMOTH, HATE) and the killer artwork made by Killustrations (SODOM, THE CROWN, DEW-SCENTED, ABORTED). The Polish indie label Surgical Diathesis records released this album in a limited number of copies that was also sold out really fast. The reissue of this album was done later from the Indonesian Disembowel Records in July of 2015. This album also received some great reviews from Metal Hammer (9/10) and Rock Hard (8/10) magazines and nominated from both as the album of the month as well! Some interesting statements (album highlights) are listed below in the Press section! It is already available in some of the biggest online shops like Amazon, iTunes and Google Play Store and finally got in the top 100 charts in Thrash Metal genre (rateyourmusic.com) of the year 2010. DRUNKARD supported Like Sin Explode album once more with several shows in Greece and Europe sharing the stage with legendary bands like DESTRUCTION, TANKARD, DEW-SCENTED, ROTTING CHRIST, SUICIDAL ANGELS and many more.
Recently and after some time of reorganisation and reconstruction DRUNKARD was much stronger and ready to create their third new masterpiece. Teaming up again with Killustrations for the artwork and the band´s good friend and engineer Stelios (Stelth) Koslidis for the production the band recorded and produced the best album of its history so far to make it clear that Thrash Metal never dies. Beware of INHALE THE INFERNO is here! Ten more new songs, ten head shots of thrashing attack aiming to expose to everyone that DRUNKARD is an active band, full of energy and unconditional passion ready to explode upon you.
←back