FLESHLESS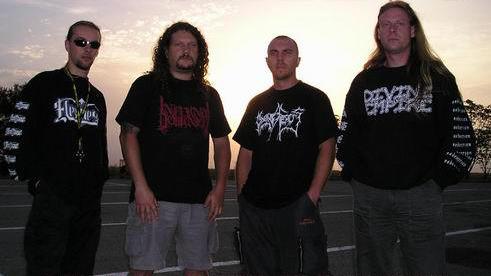 biography
Fleshless was born in 1994. The band plays melodic brutal death metal (death/grindcore early) and is one of the most influential death metal bands in Czech Republic.
The first release was "Stench of Rotting Heads" (1993) demo and "Grinding"(1994) demo. The first split CD/MC with Mastic Scum on Ohne Maulkorb Production. The drum machine was a part of FLESHLESS for their two CDs: "Grindgod" and "Abhorrence of Cadaveric". As of the new, 2001 CD, "Nice to Eat You", the band has returned with a flesh & blood pulsing drummer, Vitys, in their line-up.
FLESHLESS played over 500 gigs in Czech Republic, Slovak Republic, Germany, Belgium, Malta, USA, South America, Latvia, Serbia, etc.
In 2000, the CD "Aborrence of Cadaveric" was released. The band flew to Los Angeles and performed one festival called November To Dismember there. On November 15th, the band played as a Napalm Death's support back home in the Czech republic. October 2001, the actual CD "Nice To Eat You" has been released. Summer 2002: European Tour with Rotten Sound and Lykathea Aflame. January/February 2003 : South American Tour in Colombia, Ecuador and Peru.
The album "Sensual Death Immitation" was recorded in 2003. 2005 - 2006, brand new CD "To Kill For Skin" and European Tour with Goratory , Desecration, lot of gigs and festivals. 2007 : Big live promotion on European gigs (Czech Republic, Germany, Switzerland, Slovakia).
The new album "Hate is Born" was released in 2008. A compilation named "Free of Pain was released after, in 2009. The new album named "Slaves of the God Machine" was reelased in 2011.
After four years of constant playing the shows and festivals the brand new album "Devoured Beyond Recognition" was released.
←back