KILLCHAIN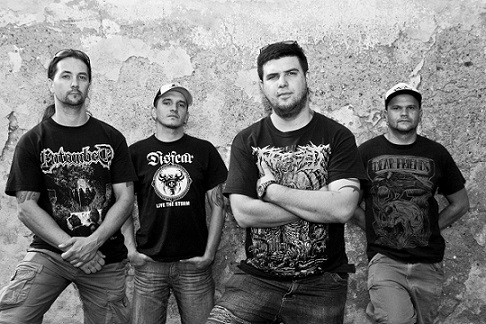 biography
The band, Killchain, plays an intensive aggressive death metal enriched by new HC influences. The band was formed in fall 2005 in Košice, Slovakia. In that time the band played old school death metal and they released 2 full length albums under german Maintain records. The first album named One more victim has been released in 2007 and second one named They has been released in 2009.
With each released album Killchain performed on tour through the whole Europe in countries like Spain, France, Germany, Turkey, Ukraine, Poland, Switzerland, Austria, Hungary, Portugal, Bulgaria and also the band performed many gigs in Slovakia.
Killchain shared the podium with bands like Exhumed, Rotten Sound, Brujeria, Gorgoroth, Cynic, Misery Index, Sinister, Magrudergrind, Skeletonwitch, Sucidal Silence, Fuck The Facts, Cataract, Burnning Skies, Mumakil, Vader, Born From Pain,The Arson Project, Infest, Amon Amarth etc. Some personal changes did not pass by band. Members from other bands from Košce, Infer, Erytrosy and Obliterate, played in Killchain. Nowadays a new album is recorded and soon the album will be prepared for a search for new publishing.
←back