LIVIDITY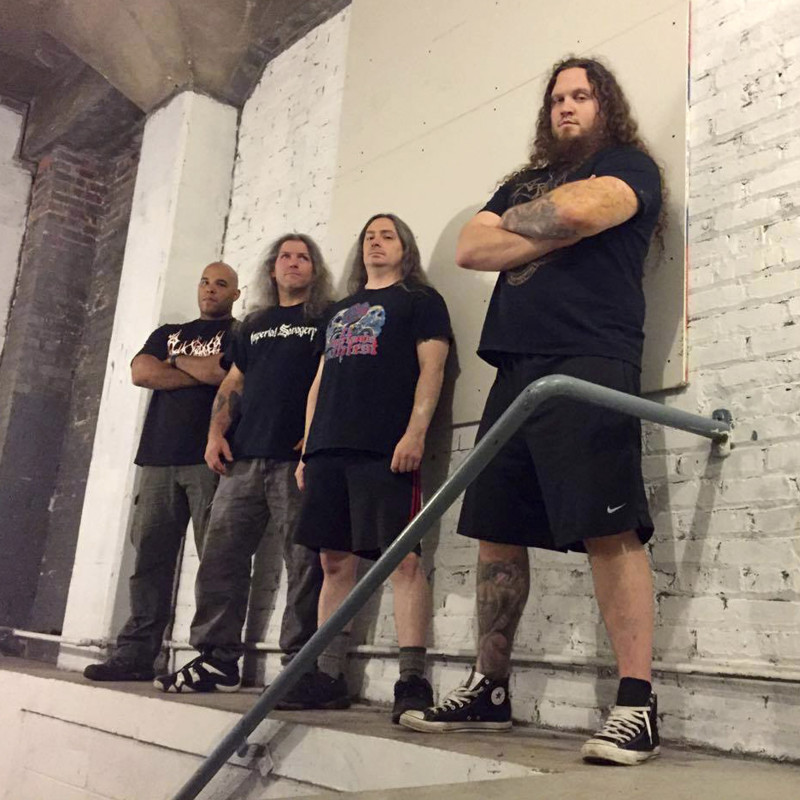 biography
1993:
US grinders hailing from Illinois, Lividity and their releases speak volumes of heretic, hatred and whores. Founded by Dave Kibler in 1993 as an enthusiastic one-man project, the extremely brutal sound of the early days fused massive influences from Hypocrisy, Bloodfeast, Cannibal Corpse and Obituary into an acidic and breathtaking musical mixture. After the first spreading of his music with its inhumane lyrical articulations, Dave was joined by some like-minded comrades. Years went by and brought several more Lividity releases. Lividity´s debut was a simple and crushing 4 song tape EP titled ´Rejoice in Morbidity´1996 (only released in Europe through Immortal Records) which was heavily tape traded and circulated, then the debut CD through Ablated Records (USA). ´Fetish for The Sick´1997, featured such anthems as "Rectal Wench", "Lacerations of an Unclean Twat", and "Pussy Lover". There is simply no mistaking what to expect from these guys. Other releases to follow, that have helped perpetuate cult like status in the death metal underground revolution are ´Show Us Your Tits´ (Live) 1999, ´The Age of Clitoral Decay´2000, ´Lividity/Profanity´ (Ger) split 2000, ´Til Only The Sick Remain´2002… amongst other split vinyl, bootlegs, rehearsal demos and mass promotion.
2005:
Time for a new era in brutal bliss! The acquiring of Von Young on vocals, guitar and Jordan Varela on drums in 2005. Then all Hell broke loose! The release of the highly acclaimed masterpiece, ´Used, Abused and Left For Dead´was unleashed in the Spring of 2006. A vicious powerhouse of debauchery, leaving every victim, a pile of carnage, on the ground where they stood. Lividity has acquired Garrett Scanlan on drums and the live performance has polished up as well with sheer energy and bone breaking speeds, yet still capturing the old school essence that has been demonstrated through the years. With the signing to War Anthem Records (Germany) in cooperation with Epitomite Productions (USA), Lividity is on a world domination campaign, that has brought them to various festivals and tours including 9 Europe invasions.
2009:
With the release titled ´To Desecrate & Defile´2009, expect nothing less than energy and power of ´Used, Abused and Left for Dead´coupled with the old school death/grind that has helped shape what Lividity has become. 2014 marks 20 years existence of the band and the longevity is due to hard work dedication and persistence. We feel we have helped influence the growth of vulgar, sexually explicit, porn death grind bands in the scene worldwide.
2016:
A new chapter of their book of life was opened with re-releasing of their two EPs ´Fetish for the Sick´and ´Rejoice in Morbidity´in the end of 2016. Both records were released on a black vinyl and CD under the agile Metal Age Productions label in Slovakia. The band remained itself with these old school, traditional tracks to raise up again.
2018:
The band goes pretty alive on stage in October 6th at Ontario DeathFest in Canada together with other men in death as Goreworm, Deity and others. After re-releasing their three albums ´The Age of Clitoral Decay´,´Til Only the Sick Remain´ and ´Used, Abused and Left for Dead´on black and coloured vinyl and CD jewel case formats including new cover artworks and layout under the Metal Age Productions label (SK) in 2018, the band comes out with a brand new album named simply and percussively ´Perverseverance´.
As Dave Kibler (guitar) said: In each of us, two natures are at war - good and evil. All our lives the fight goes on between them... I know what God is, I know what the Devil is. Because of this I have a moral compass of things I won't and can't do in this fucked up society. Therefore, the creation of LIVIDITY, to do those things for us... as the 3rd person... so we can play LIVIDITY and be as insane as we want to be behind this force, this mask...THIS ENTITY!"
Perverseverance is the 7th full length album after nine years of active life and playing. It finds LIVIDITY on a quest for world domination. Older, wiser, more mature... this new material has created itself as if it possessed us and there is no control over it. It´s a music with deep impact on human mind. The stories so shocking, majestic and disturbing compositions from the first note to the last one. This will be the ultimate shock album for the masses. The fans will relate, they will understand and the LIVIDITY´s culture will raise again.
Cover artwork was made by Daemorph Art and graphic layout by Dodo Datel (GALADRIEL). Special vocal appearances by Dan Klein (Fin), Anthony Voight (Gorgasm, Sarcophagy). Recorded, mixed and mastered at Iron Hand Audio-Chicago. Engineered by Dan Klein, produced by Dan Klein and Lividity. This new album comes out on classical black and limited coloured gatefold vinyl and jewel case formats.
←back