NATRON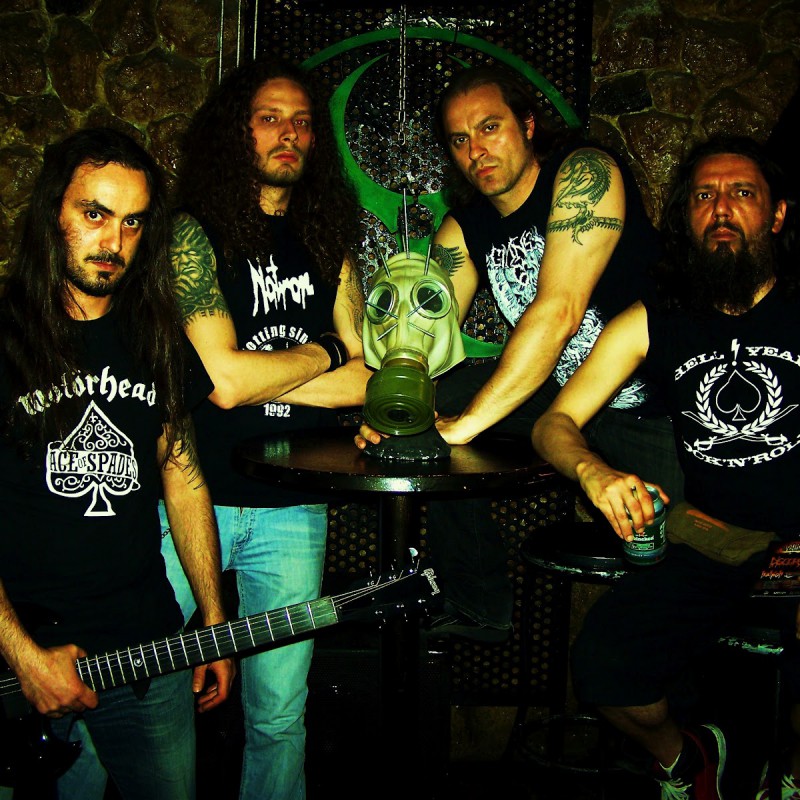 biography
Initially influenced by certain 80's thrash metal ala Coroner, Voivod and Slayer and by the uncompromising brutality of death/grind masters like Suffocation Napalm Death, Terrorizer, Entombed, NATRON are now legendary purveyors of a unique blend of death metal and grind core.
Hailing from the igneous shores of the mighty south of Italy, Natron formed back in May 1992 and their sound is since considered a benchmark which constantly evoluted through their 7 records.
After they made a name for themselves in the underground scene with two demo tapes, ´Force´(November 1994), ´A taste of Blood´ (July 1997) and a mini album ´Unpure´ (recorded in April 1996 but finally released by Nocturnal Music. In November 2000) they released their 1st full length album ´Hung, Drawn & Quarterted´ (Headfucker Records) in December 1997, capturing the attention of French Holy Records.
After signing with the Paris based label the band released ´Negative Prevails´ (June 1999) and ˇBedtime For Mercy (November 2000) both recorded in Sweden at the legendary Abyss studios, property of Peter Tagtgren of Hypocrisy/Pain fame. Then came ´Necrospective (November 2002) to celebrate the first ten years of the band, and their most critically acclaimed album (mixed by Anders K. Lundmark at the Starstruck studios in Copenhagen), ´Livid Corruption´in November 22nd 2004.
Five years of extensive touring, serious line up changes and with a long record deal expiring, the band were forced to put their 6h full length studio album ´Rot among us´(Metal Age Productions) back 'til October 20th 2009. Renowned for being a hard working band, these veterans solidified their status of respectable european old school death metal band and after that nicknamed "the Italian godfathers of death"!
In two decades of career they have been producing quality albums obtaining great reviews in Rock Hard, Metallian, Terrorizer, Aardshock, Hard & Heavy, Metal Shock, Metal Hammer and many more world magazines and with the intense touring work and festivals appearances Natron played every corner of Europe including France, Spain, Benelux, Germany, Austria, Switzerland, UK, Poland, Scandinavia, Czech Republic, Hungary, Slovakia, Croatia, Slovenia, Serbia, Makedonia Bulgaria, Romania, Turkey and Greece sharing the stage with the best world death metal acts like Obituary, Messhuggah, Napalm Death, Entombed,Disfear, Edge of Sanity, My Dying Bride, Brutal Truth, Pungent Stench,God Dethroned, Centinex, Inhume, Suffocation, Necrophagist, Die Apokalyptischen Reiter, Septic Flesh, Behemoth, Origin, Cryptopsy, Hate Eternal,Pandemia, Mastic Scum, Misanthrope ,Lacuna Coil, Cephalic Carnage, Exhumed, Aborted, Decapitated, Fleshgod Apocalypse, Deicide, Prostitute Disfigurement, Vader, Gama Bomb, Mumakil, Disgorge and many others.
After touring massively Europe and the Balkans between 2010 and 2011, in March Natron entered the studio to re-record the old songs included in the debut album and mini for a new brutal release. This work marks the return to the good old brutal times, a sort of "back to basics" album to get the old brutality out to the newer fans who missed the early days of the band.
Extra info here…
←back